Peer-to-peer learning and leadership development to strengthen your business.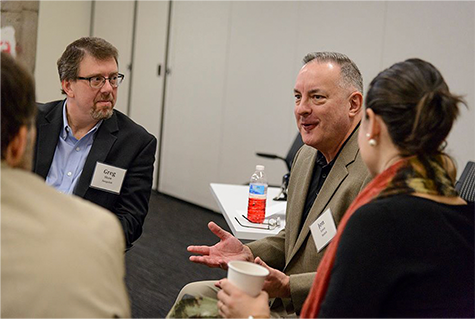 As a CEO, executive, or business owner, it can prove challenging to find meaningful professional peer relationships, keep up with the relentless technology changes, and stay in tune with the needs and challenges of your workforce – all while making hundreds of decisions each day.
When you belong to EDGE, you gain access to an exclusive group of trusted peers who get it. We offer abundant opportunities to share knowledge, attend curated events, and participate in important and meaningful discussions with your professional counterparts. These enriching experiences provide you with the edge you need to propel your business and your leadership team forward.
What does it mean to be an
EDGE

member?

You want to...
Feel confident and validated in your decision making.
Surround yourself with growth-minded peers.
Stay current with technology and innovation.
Plan for the future state of your business.
Optimize your time and increase productivity.
Increase organization performance and revenue.
Thoughtfully address day-to-day challenges.
Be a better leader.
EDGE delivers
A network of peers and community partners who have been where you want to go.
Executive round tables and valuable discussions.
Educational experiences and immersive events.
Succession planning guidance and advisory.
Skills and solutions for maximizing efficiency.
Economic development impact in Northeast Ohio.
Nimble strategies and advice to problem solve.
Exceptional leaders.
Member Testimonials

Strategic Planning - CEO Round Table
Developing Leaders, Growing Companies
Stay up-to-date on the latest EDGE and industry news:
The Path to EDGE Membership
Step 1:
Have a 15-minute conversation with an EDGE leader.
Step 2:
Attend an EDGE session or event to experience EDGE firsthand.
Step 3:
Submit a membership application.